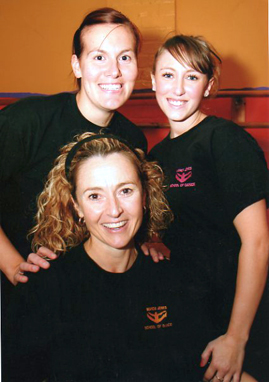 Marcia Jones, (centre) with Katie Leviers & Katie Bowman
Marcia Jones
Marcia trained at Merseyside Dance and Drama Centre and went on to become a professional dancer and choreographer. In her career, she travelled worldwide thereby gaining a vast amount of experience which she enthusiastically passes on to her students. The school was established in the early nineties and since the move to her Beeston premises in 1997, the school expanded rapidly with branch schools in Hucknall and Mapperley.
School Policy
We treat every child as an individual and our main priority is that they enjoy their time at the school. We value social skills, good manners and respect for one another, thereby giving the student self confidence and belief in themselves. They are taught correct technique, posture and body awareness whilst maintaining an enjoyable atmosphere. We cater for every child's needs whether they want to dance as a hobby or as professional career.
Look at some of our testimonials on our:
To ensure the smooth running of the school, certain rules need to be adhered to. They are as follows:
Parents are not allowed into the studio or upstairs when classes are taking place. This is because lessons run to a tight schedule and queries take up valuable teaching time.
Younger children will be escorted downstairs after their lesson.
Any queries should be directed to the reception area.
Please be aware that Cyprus Avenue in Beeston is a residential area. Therefore please show consideration for the residents when parking, drop off and pick up. If possible park on Wollaton Road and walk around to the studio.
Children attending classes must wear dance school uniform. (Newcomers to the school should wear all black clothing, plimsolls or trainers).
Regular attendance to classes are important so your child doesn't fall behind with their work.
For safety reasons, no jewellery to be worn (apart from small stud earrings).
The school does not take responsibility for any money or articles of value lost on the premises.
The school continues classes throughout the school holidays unless we notify you otherwise.